[IN-GAME LAG COMPENSATION SOLUTION FOR COD WWII PC GAMERS]
Here are my settings that work for me in the UK. (I'm now back to 25-5 KDR ...yay!)
I cant verify this works for CONSOLE owners, but you can try it and see.....
[In-Game Lag Solution]
Okay.... So I found a much smoother COD WWII (Pc) game-play experience by changing my Gaming Pc from a Pc to an XBOX in device manager (this is Optional and not totally necessary - both ways work , Pc or as a console), and then adding that as a device in Geo Filter (and QoS at 70/70 sliders)
I noticed a significant improvement in game in terms of ping (40ms is the sweet spot as previously mentioned by another poster)
I have my Geo radius set to EXCLUDE the entire UK (where my IP is hosted) and set it centered to Mid-Europe. (This method should work for everyone , in your own area, as long as you check that your ping to game server is as close to 40ms as you can get (40ms is the "sweet-spot" for COD WWII on PC).
Previously i was connecting to UK servers with a low ping and getting destroyed every game. Low ping in this game is of no benefit, in fact quite the opposite.
So, here are the settings that work perfect for me....
[update]
I perfected my WWII (Pc) gaming experience by using both a VPN and the XR500 Geo location system.
I use IPVanish VPN, connected to Nottingham servers. (I live in Northern Ireland UK)
I have my Geo location set to Mid-Europe and the circle set to just almost touch the English channel. (Thus excluding the entire UK!!)
This gives me a perfect ping around 35-40ms (this ping will give you best hit-rate in game) on European servers & P2P hosts.
I now have great game-play with this setting.
Bare in mind, this is only for WWII and you should play around with your own settings for different games.
Note: While this works perfect for me, it may not for others!! Given that I live in N.Ireland, and my BT servers are London based, my base ping to BT is 18ms. This will come into play if you attempt to use my settings. You WILL have to play around with your own VPN connection location as that will affect your ping to European servers. I used Ping Plotter to determine the best ping . I.e. VPN on Nottingham and connecting to a German WWII server. Basically, you want a ping of 38ms to a WWII server...
[Geo-Filter settings]
Pc Added as "Call of Duty" Device with [Filtering Mode ENABLED]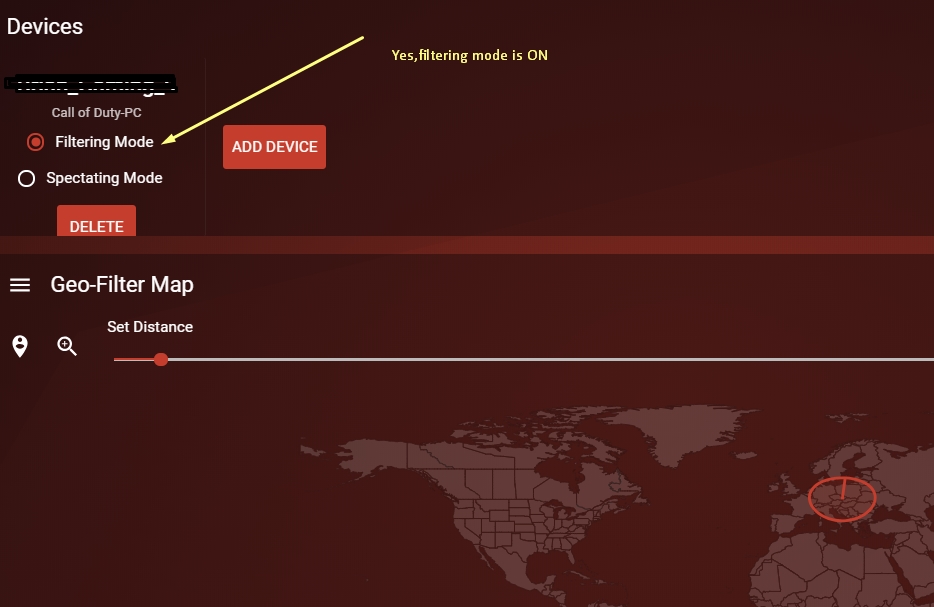 [UPDATE] - I have now amended the information as the Amsterdam server must have been upgraded. It now pings at 24ms (used to be around 35+)
NOTE: However !!, By using my VPN settings (scroll back up a bit) I have since able to expand my radius slightly to now include the Amsterdam server. Using a VPN creates "virtual lag" , just enough to generate the perfect 38ms ping to the WWII Game servers in Europe.
Additionally, I did use Port Triggering in my setup (im not sure this is totally necessary ... but because it gave me an OPEN NAT i just left it active)
I did notice occasionally that if i wasn't using Port Triggering and just relied on UPnP, I sometimes got a Moderate NAT... with Port Triggering, i get OPEN NAT 100% of the time)
Note: Not to be confused with Port Forwarding !, port triggering will only open the ports as and when requested.... therefore, more secure!
[Port Triggering Setting] - Ports Enabled (see table further down for all WWII ports across each platform)

[Anti-Bufferfloat Setting] - Set to "When High Priority Traffic Detected". Sliders set to, 70% / 70%

Ports Used by COD WWI are;

[Traffic Prioritization Setting] - Set to DumaOS Classified Games - Disabled. (Use ports defined for your Device from above table.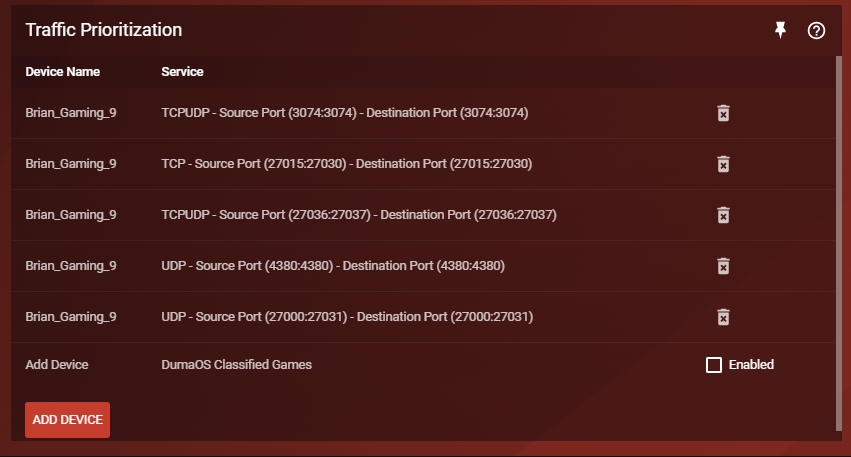 [Bandwidth Allocation Setting] (i gave my gaming rig 20% / 20% on BOTH Download and Upload)

[My Broadband speeds tested as being 70Mbps DL and 12Mbps Upload - so i set these in the QoS Setting during the initial router setup]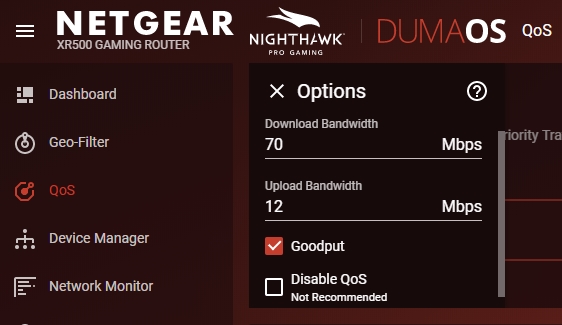 You can do you own speedtest anytime though - this can be done anytime within the router by going to Settings, Setup Wizard , choose Yes and follow prompts....